Universal wall development in recent years the situation and future trends
Date:2013-10-10 14:59 Click:
Xiamen International Stone Fair After ten years of development, has become the world 's largest and the largest number of merchants exhibition professional stone exhibition. Thirteenth year, the exhibition closed in March 9 . Review this exhibition : from 54 countries and regions gathered Sagishima 2000 enterprises in Xiamen International Conference and Exhibition Center 160,000 square meters of exhibition hall , the perfect show a " beautiful stone " Feast ! With this exhibition range of products, unique design and exhibits the latest industry trends , attracted participants from 148 countries and regions, the stone industry professional businessmen 130,168 people, including the number of overseas visitors reached 25,679 people .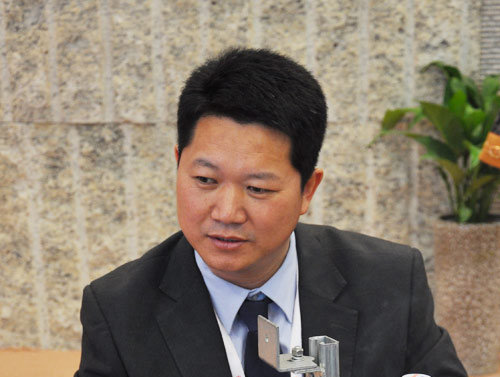 After the global curtain wall business manager responsible Shenggao Bin told reporters:
Global Business Manager Shenggao Bin wall
Shenggao Bin : I think Global walls Engineering Limited The main advantage of two points : the first is in its core technology , and the second is in its focus on the high-end market . Universal wall mastered the core technology of high-end , is to ensure that current and future in the curtain wall industry-leading magic.
Global curtain wall company has its own R & D team developed a number of its own unique patented items. For example, the development of the North insulation system , insulation system to take the same general 10CM 5CM or different insulation board , the company's global curtain wall insulation board used 1CM thickness of the insulation board, adhere to the back of the stone , not only the installation more convenient, but also saves space .
Another one wall only has the world 's only global technology patents - self-cleaning protective agent . Generally difficult to clean the surface of the stone , and is easy to acid rain and other adverse factors external corrosion , and when the global self-cleaning walls protecting agent after brushing the stone surface , making the stone surface becomes like glass, wind and rain can conduct your own clean and maintain clean themselves .
Shenggao Bin said that the future will be more focus on technology research and development, technology leader in global curtain wall to make loyal customers , more and more customers to use in the process also gives them a lot of benefits .
Looking Fourteenth Xiamen International Stone Fair will be held March 6, 2014 in Xiamen International Convention and Exhibition Center , exhibition area will reach 164,000 square meters, set the international standard booths 8600 , will also attend this global curtain wall field " beautiful stone " Feast !